The First Wheels
The wheel is an icon of invention and civilization. The first known stone wheels came out of ancient Mesopotamia, the region today known as Iraq, around 3500 BC.
These first wheels were used for throwing pottery and agricultural uses such as grinding. It took another 300 years for wheels to be used in transportation.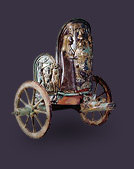 The Origin of Tires
Solid wooden wheels were heavy and had a short lifetime. Egyptian chariots sported spokes and an iron band that provided durability and tied the segments together. This strip of metal became known as the wheel's tie-r or tire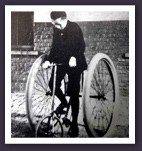 Rubber Tires
Bicycle maker John Dunlop used traditional wooden wheels until his son complained of headaches from the bumpy ride. He crafted rubber tires (made possible by the vulcanization process discovered by Charles Goodyear) to build the custom tricycle pictured at left in 1888.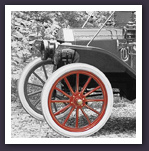 The Rim ("Wheel")
The first automobile wheels originally sported large wooden or metal spokes.  As car speeds began to accelerate the solid rim emerged to accommodate wider tires and provide improved performance. The vanity hubcap appeared shortly thereafter to adorn the rim and the sides of roads throughout America.

The Future of Tires
The wheel continues to evolve with new materials and concepts like Michelins "tweel", pictured at left.
Even if the flying car becomes a reality, you can be certain wheels will be an important component.  They are the most efficient form of converting axial rotation to linear velocity.