One of the fun things about using Tire Power is finding and using some of the nifty little features in the software which are not always readily apparent to the normal user.  Often times these features can enhance your experience with the software, and make you more efficient in your day to day job.  From time to time, I will try to point out some of these lesser known features so you too can make the most of your Tire Power software.
One of the things Tire Power does really well is tracking non-stock or "special order" inventory.  More times than not, these items tend to be parts, but certainly are not restricted only to that.  One of the issues I have heard time and time again, especially from new users, is under their old software or paper invoice system they did not have an easy way to look up where they purchased non-stock parts from.  This is an issue in case they have a warranty problem or just need to reorder the same part.  With Tire Power, this is a snap!  To find where an item came from, in Front Counter simply go to the customer's history screen and locate the original invoice the item was sold to the customer on.  Highlight the invoice, and at the bottom of the window in the details box, you will see the details of the selected invoice.  Right-click on the line which is the non-stock item and you will see a menu with 'View Item Activity'.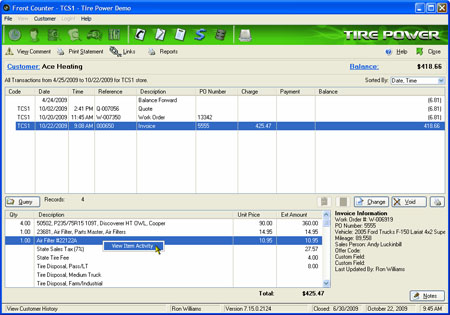 Select this to bring up a new window called 'Inventory Item History' which will show all activity for the item, including the vendor you purchased it from, what you paid for it, when you received it, and even the vendor's invoice number.  This eliminates any confusion with the vendor on warranty issues, because you now are armed with all the information you need to get a speedy resolution to your problem.  This feature can also be used in case you need to get the information to re-order another one of these parts as well.  The best thing is, in most cases you can get this information in literally 30 seconds or less. 

Gone are the days of spending hours digging through boxes of old paperwork trying to find where a part came from.  By the way, this feature is also available from the 'View Today's Activities' window.  So you see, making the most of your Tire Power software really means making the most of your valuable time.  Stay tuned for more tips.