One of the things we at Tire Company Solutions really want for our customers is for them to get the full experience, or 'power' if you will, from their Tire Power software.  As I mentioned in my last blog, it can be fun discovering and using some of the lesser known features in the software.  With that in mind, here is an overlooked feature, this time for you accounting people.
A widely used and very powerful feature in Tire Power is the 'Query' option available on all history windows.  This feature is especially useful in the accounting areas of Tire Power.  It is inside one of these account history windows where you will find this hidden gem of a feature which really is a complement to the query feature.  In Office Manager, go to the View | Accounts section where you would normally find your GL accounts.  Pick an account, and go to its history.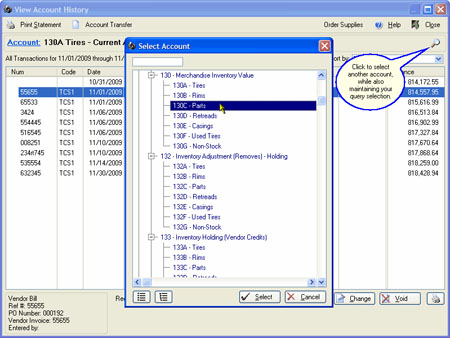 Once in history, click on 'Query' to set a date range, and/or pick a transaction type(s) to display.  Once you have made a selection, and you are back in the now filtered history screen, notice on the upper right area of the history window a small magnifying glass, or "look up" icon.  Click on this and you will be given a list of accounts to choose from.  Pick another account from the list and then click 'Select'.  You now have changed to the history window of the newly selected account while maintaining your query selections.  Imagine, you can change accounts without having to close the window, lose all of your query settings, and then re-open a new history window and reselect your query options again.  This can be a huge time saver, especially if you have taken time to create a really refined query in the history window, and have several accounts you need to look at.  Give it a try, and stay tuned for more tips.