This weekend at the Tennessee Tire Dealers Association's annual convention and tradeshow held at the Nashville Downtown Hilton, TCS's very own Bethany Paschal was one of two recipients of the 2010 TTDA Scholarship. Bethany is the daughter of Glenn Paschal, senior programmer at TCS.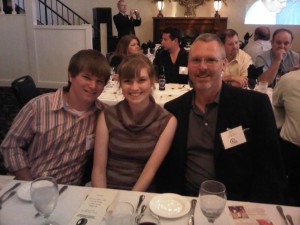 Graduating with a 3.88 GPA and ranked 4th in her class at Monterey High, Bethany plans to attend Tennessee Tech University this fall and has declared premed as her major. Honors, AP and College Placement courses were just a small piece of Bethany's vita while attending Monterey High. She also participated in some capacity over the last 3 years in over 21 volunteer/non for profit organizations, 11 school clubs and organizations and was a rock star basketball player.
The Wendy's High School Heisman award was one among many athletic achievements Bethany received in her tenure at Monterey High. Many part time jobs were also a piece of the busy schedule of this stellar high school student. Whew! I am exhausted just thinking about that schedule! TCS is thrilled for Bethany and Glenn to receive this award and we look forward to hearing of her continued success as she pursues the first year of many to come as a premed student! Congratulations Bethany!